Congratulations to Rafael Mercedes, an NJCU undergraduate majoring in Security Studies, for being selected as a project intern in summer 2020. Good luck with your next steps! Please see below for some of his research and analysis.
Venezuela is a big concern for both the United States and Russia. According to reports (Litvinova, 2019), Russia has helped, supported and continues to help the current leader of Venezuela, President Nicolas Maduro, by influencing elections in Venezuela. Here we examine articles and reports from Russian state media (Russia Today) and the Russian Ministry of Foreign Affairs related to Russian involvement in Venezuela.
The image below shows an increase in the number of articles in Russia state media (Russia Today) when the United States tries to get involved with Venezuela.  The number of articles increases when the United States sanctions Venezuela or when the U.S. State Department and/or President talk about Venezuela.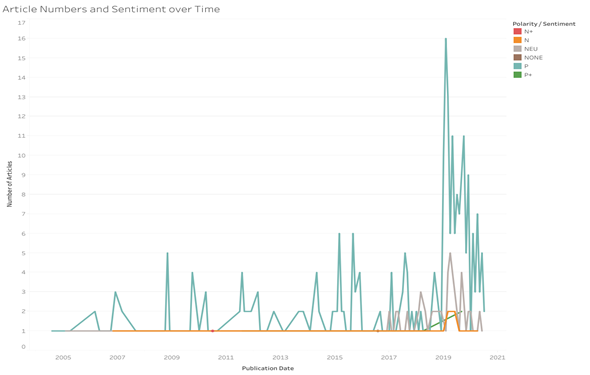 The July 2019 increase in articles about Venezuela coincides with the U.S. sanctioning Venezuela that month over illegal oil mining and President Maduro's undemocratic practices.  In both the Russia Today and the Russian Ministry of Foreign Affairs databases we saw an increase of Venezuela articles in 2019; a review of the articles found Russia supporting President Maduro, including during elections. U.S. sanctions and criticism of Venezuela also clearly drew the attention of the Russian government and official media, as we see an increase of articles every time there are sanctions from the U.S. and when the U.S. is itself attempting to influence Venezuelan elections.

REFERENCES
Litvinova, Daria "Russia in Venezuela: As Moscow accuses U.S. of "information war," what is Putin's role in the standoff?" https://www.cbsnews.com/news/russia-in-venezuela-why-vladimir-putin-backs-nicolas-maduro-in-standoff-with-donald-trump-us/